Speech at What We Hoped Would be our Victory Party
We Won in Court 1 - We are on the Ballot
We Won in Court 2 - A Victory for Freedom of Speech and Democracy
Housing Rehabilitation, the Quality of Life, Jobs, and the future of Philadelphia
Mt. Airy Acme Opens; More Supermarkets Needed
Rosita Youngblood, Ghosts, and the Culture of Corruption
As you all know by now, our campaign came up short. I am disappointed but not discouraged.
We ran a strong campaign against a long time incumbent who received substantial support from the party machine. And, despite these barriers, we got a substantial share of the vote.
As a result, our campaign will have a positive impact on the communities in this district. We raised some important issues and set forth a progressive agenda, both for the district and the state.
We also ran a campaign that brought people from different parts of this district together. I made a lot of new friends. And I was touched by how committed my old friends were to this effort. I am grateful to all of you who believed in this campaign and worked so hard on behalf of it. I am sure that many of you will join me in working together to realize the ideas and ideals I set forth in the last few months.
Almost everyone I have talked to in the last few days has asked me whether I will run again. For a lot of reasons, I can't answer that now. For one thing, I believe in redemption. And I would like to see Rosita Youngblood become the kind of representative she could be. This campaign was never personal in any way. Representative Youngblood is a talented and strong woman who should be a great representative. If she becomes one, then there would be no reason for me to run.
I have to consider the effect of the campaign on my family. I also had to think about whether I can make a greater contribution as a teacher and writer on politics or as a community activist than as a politician.
And I also have to think about whether I can win in another go round.
The race we wound up running was not the race we originally set out to run. In January we expected to be in a four or five person race, which I thought we could win with thirty-five to thirty-eight percent of the vote.
After Rep. Youngblood's lawyers got through with the other candidates, I was in a much harder and more expensive race. We had to put a much larger operation into the field. And we had to send our mailings more broadly than we had planned.
There is no question that in this election I created a strong base of support in Chestnut Hill, Mt. Airy, and parts of Germantown and Nicetown. This was not as easy as many of us thought it would be. We live in a world in which most people pay little attention to politics, let alone local. Many of you knew of my work at WMAN or in saving the R8 train and C Bus. But there were many people who did not know this. So I had to work hard to create this strong base of support. That left less time than I had hoped to expand the base into other areas. Where I was able to move into new areas by walking them and / or by finding local activists or committee people to support me, I did well. I beat or tied Rep. Youngblood in a few divisions in her own ward. But we ran out of time. I could not walk the entire district. And it was difficult to find the time to meet all the community activists and committee people.
It is possible that a second campaign would enable me to expand the base further. But it will take some time to figure this out.
(For a more detailed analysis of how we did in this election, along with some of the barriers we faced, click here.)
My Last Speech for Now
On Election Day, I gave a speech at what I hoped would be our victory party, talking about this campaign and thanking everyone. who took part in it. I would like to share it with you. Like all of my speeches during the campaign, I gave this one without a text. So I don't have a record of what I actually said. But this text captures what I felt and much of what I said.
If I am going to run again, I will have to retire the substantial debt that arose when we decided that we had to spend heavily everywhere in the district. If you can by making a contribution or a further contribution, please do so.
To make an on-line contribution, click here.
To make a contribution by mail, please fill out the form you can find here. If you want me to send you a reply envelope, please write or email me at MarcStier@stier.net
McAllister Endorsement
I am very pleased to announce that Curt McAllister has agreed to endorse our campaign. This is an incredibly important addition to our efforts. Curt is one of the most influential and well regarded community activists in the district. Last week I saw first hand how he can mobilize his community when I attended a protest rally against Rosita Youngblood decision to move the polling place in the 8th division of the 13th ward to a stop and go.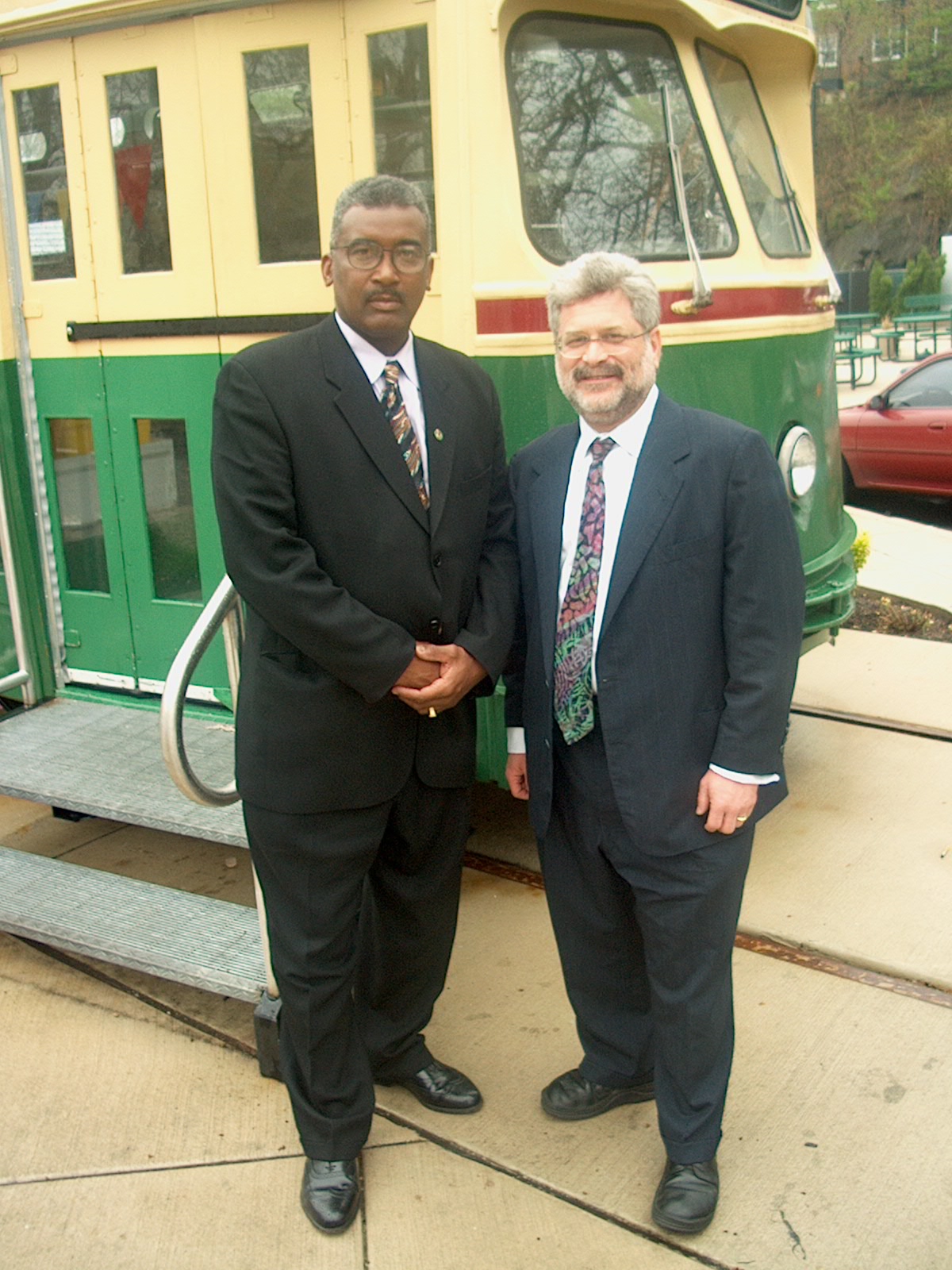 Curt and I have talked a few times about the needs of the district and will talk more after the election. I share his vision of the kinds of development this district needs and will be eager to learn more from him, and work closely with him, over the next few years.
Curt will be lending his voice to the six sound trucks that will be roaming through the district all day. We hoped to have a picture of us together, but that was not available by the time I had to get this email out.
We Won in Court 1 — We Are On the Ballot Pending a Supreme Court Decision
Last Tuesday Commonwealth Court Judge Doris Smith-Ribner ruled against Rosita Youngblood's challenge to the petitions that put me on the ballot. So, I am on the ballot. Rep. Youngblood appealed Judge Smith-Ribner's decision to the Pennsylvania Supreme Court. Briefs were filed at the end of the week. I expect a decision today or tomorrow. I am confident that the Supreme Court will rule favorably. You can read Judge Smith-Ribner's decision here.
The other four candidates who originally filed nominating petitions to run against Representative Youngblood have been removed from the ballot by the Commonwealth Court. They are Supreme Dow, Latrice Bryant, Curtis Alton McAllister, and Lamont Thomas. Thomas and McAllister have not appealed the decision. Bryant has appealed the decision to the Supreme Court, which has temporarily stayed the Commonwealth Court decision. Dow has not yet announced his response to the recent ruling.
So, right now it is either a two or three person race. This improves our chances of victory. But it also makes for a much more expensive campaign. With Curt McAllister and Supreme Dow out of the race, I cannot and will not concede any division in the district. My supporters will be out in force in every division.
We Won in Court 2 — A Victory for Freedom of Speech and Democracy
As I reported last week, I testified in Federal District Court on behalf of the ACLU in its effort to overturn a Philadelphia law that prohibits political candidates and community groups from putting up posters on utility polls. Judge John R. Padova has issued an injunction preventing the City from enforcing this law until he rules on its constitutionality. This is a great victory for our rights under the First Amendment, for the democratic process and for community groups. I am proud to have played a role in it. For a Daily News article on this decision, click here.
Housing Rehabilitation, the Quality of Life, Jobs, and the future of Philadelphia
The 198th is a diverse district and the problems and opportunities found in each neighborhood vary a great deal. But there is one difficulty that, to one degree or another, affects all neighborhoods, problem houses. Our blocks and neighborhoods are mostly in good shape. But on every block there are one, two, or three problem houses that create terrible difficulties for their neighbors. If elected your state representative, I will work to attack these problems in a coordinated way, and help rehabilitate our wonderful housing stock. Doing so will improve the quality of life in our neighborhoods; create new jobs; provide training opportunities for our young people; and preserve the distinctive character of life in our Philadelphia neighborhoods. To read more about this issue, click here.
Mt. Airy Acme Opens; More Supermarkets Needed
I never thought I would be so excited about a supermarket opening! But after almost two and a half years of negotiation and another nine months of waiting for the contractors to finish, it was very exciting to see our beautiful new store open. And I was very proud to speak for the community groups at the grand opening ceremony. For more information about the opening and my hopes to bring more supermarkets to the are, click here.
Rosita Youngblood, Ghosts, and the Culture of Corruption
During this election I have been having a little fun at Representative Youngblood's expense by calling her a "ghostly presence" in our district. I have also joked about the "haunted mansion" that is her office on Greene Street.
What I did not know, however, is that ghosts can vote! Read more...
I will be making as many appearances before groups of people as he can and will also try to visit every single household at least once. I cannot win this election without your help. If you believe in the ideals expressed in this campaign, there is much you can do to help. Click here for more information.
If you missed the campaign kickoff event,. click here to see the video.